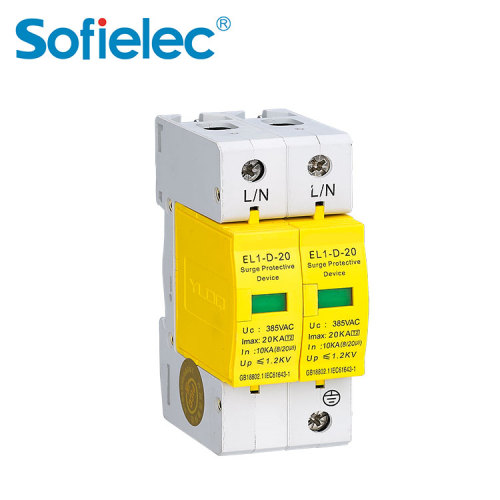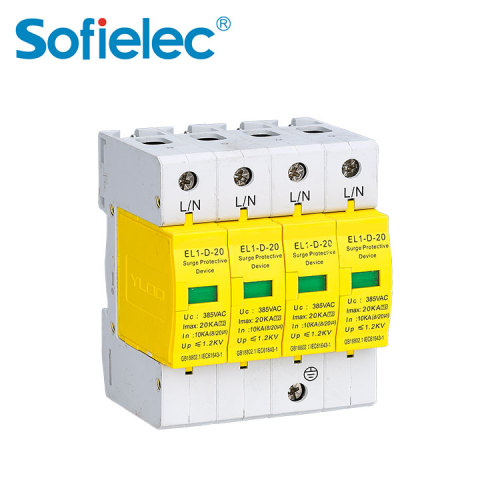 EL1-D-20 SPD Surge Protective Device
Item specifics
Parameters

EL1-D-20
Maximum continuous operating voltage Uc(V~)

420V 385V 275V
Voltage protection level UP(KA)

≤1.2 ≤1.0 ≤1.0
Maximum dischargecurrent(8/20us)(KÄ)

10
Nominal dischargecurrent (8/20us) (KA)

5
Response time (ns)

<25
IP Grade

IP20.
quipped with front fuse or circuit breaker

10A 16A
Application

Incoming line first level protection
Remark

Other maximum continuous working voltage Uc can be customized
Description
EL1-D Series Surge Protection Devices (hereinafter referred to asSPD)

are suitable for ac 50/60hz, rated voltage380V IT. TT. TN-C. TN-S. TN-C-Sand other power supply systems to protect the surge caused by indirect

lightning and direct lightning or other instantaneous overvoltage. Class III SPDaccording to IEC61643-1:1998-02. Class D surge protectors.

SPD has common mode (MC) and differential mode (MD) protection.The SPD accord with GB18802.1 /lEC61643-1.
MAIN TECHNICAL PARAMETERS