2P,4P magnetic RCCB 6kA. 6A up to 125A. Original new design, patent protecdtion, with CB,SEMKO,CE approval
Share
Issue Time

Nov 14,2019
Summary
Provides protection against earth fault/leakage current and function of isolation
High short-circuit current withstand capacity
Applicable to terminal and pin/fork type busbar connection
Contact position indication
Equipped with finger protected connection terminals
Fire resistant plastic parts endures abnormal heating and strong impact
Automatically disconnect the circuit when earth fault/ leakage current occurs and
exceeds the rated sensitivity.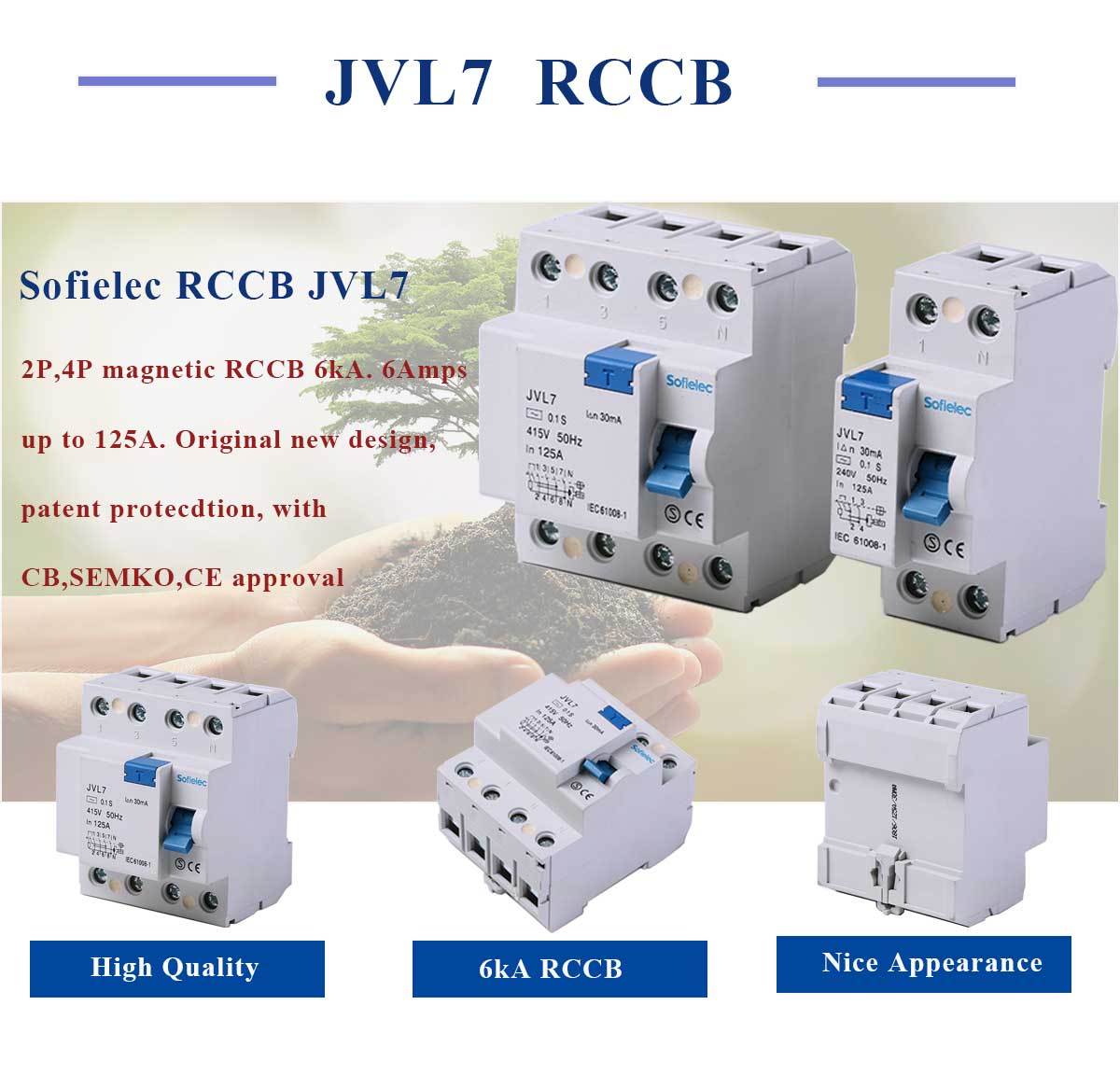 Construction and Feature
Provides protection against earth fault/leakage current and function of isolation
High short-circuit current withstand capacity
Applicable to terminal and pin/fork type busbar connection
Contact position indication
Equipped with finger protected connection terminals
Fire resistant plastic parts endures abnormal heating and strong impact
Automatically disconnect the circuit when earth fault/ leakage current occurs and
exceeds the rated sensitivity.
Independent of power supply and line voltage, and free from external interference,
voltage fluctuation.
Technical Data
Mode: electro-magnetic type, electronic type
Residual current characteristics: A, AC
Pole No.: 2, 4
Rated making and breaking capacity: 630A
Rated current(A): 25, 40, 63, 80, 100, 125
Rated voltage: AC 230(240)/400(415)
Rated frequency: 50/60Hz
Rated residual operating current I△n(A): 0.03, 0.1, 0.3, 0.5
Rated residual non operating current I△no: 0.5I△n
Rated conditional short-circuit current Inc: 6kA
Rated conditional residual short-circuit current I△c: 6kA
Tripping duration: instantaneous tripping≤0.1s
Residual tripping current range: 0.5I△n~I△n
Electro-mechanical endurance: Not less than 4000
Connection capacity: Rigid conductor 35mm 2
Terminal Connection Height: 21mm
Connection terminal:
Pillar terminal with clamp
Fastening torque: 2.5Nm
Installation:
On symmetrical DIN rail 35mm
Panel mounting
Protection class:IP20
Overall & Installation Dimensions